FfChrome For Firefox 3 – 5.0.* & Seamonkey 2.0 – 2.1
FfChrome is an extension that slims and trims your context menus on the fly for ease of use and easy access and eliminates the clutter. If you have been using Firefox for a while and have many extensions installs you'd have realised that the length of the Firefox context menu has grown exponentially. FfChrome is based on a simple philosophy – to clean things up. This is an extension for those who like elegance and want to do away with the clutter. Suggestions are welcome. If you want to install the extension you can just skip to the bottom. Here's what it does.
It will optimize your context menu and show only the bare essential items.
It will allow you to see the unwanted items on the fly by clicking "Show All". You can again collapse it to bare essentials on the fly.
All disabled items are taken out by default. What will one do with the "paste" item when you haven't copied anything?
Ease of use – all changes happen on the fly.
It is contextually sensitive. It knows and respects the context in which you use it. For e.g. context menu items relating to links or images etc. will only show when you right click on a link or an image etc.
Install FfChrome for Firefox & Seamonkey
ChangeLog
Version 1.3
FfChrome can now take care of menuitems added by other addons. This will really trim your menu down to the basics.
FfChrome 1.3 has several compatibility enhancements and fixes. FfChrome will now play gentle with menus modified by other addons. Tasks for example CuteMenus2 which adds icons to your menus. This now works perfectly fine with FfChrome.
Corrected the timer so that menu does not expand by mistake or on short hovers.
Corrected a bug when some items will not show in the expanded menu.
Version 1.2
Implemented menu expanding by hovering
Version 1.1
Fixed some issues with showing menuitems added by other extensions.
Version 1.0
The difference
Here are a few pics to show the difference. This is the default Firefox menu I have in my default profile.
The Difference
After installing the extension it only shows the bare essential items. You do have an option to see all of them by clicking on Show All. You'll need to open the context menu again.
Expanded
You can expand them back and here's what it looks like when expanded. Again, as earlier you can collapse it back.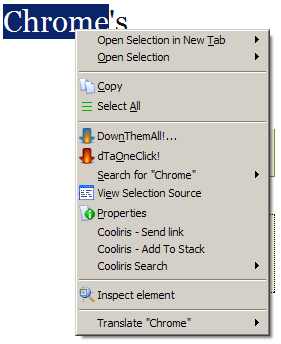 And here's what it looks like in Google Chrome. Of course we don't show the disabled items which are of no use.
FfChrome Download
You must understand that this is a beta and if you have problems you should be comfortable disabling this extension from Tools > Addons > FfChrome > Disable button. You should also contribute and provide feedback about any bugs or any feature requests. Right now the extension is in infancy but your suggestions will help it mature and grow. Thanks for using FfChrome.